The Shanghai Express
1932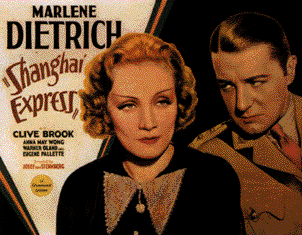 Yay! A movie in English! And it takes place in China and is really ethnocentric and just a tad racist. Wait...
Marlene Dietrich may be one of my favorite actresses of all time. I always appreciate actresses that aren't drop dead gorgeous. They have to be successful by their talent and they have to carry themselves in a manner where they are really attractive to men. I think Nicole Kidman and Joan Blondell do (or the latter case, did) that well. This movie is about Marlene Dietrich and the plot, secondary characters, and scenery just seem immaterial when you watch this film.
I have always liked movies that take place on trains. They are always romantic, mysterious, and dark. My experiences on trains has always been rather underwhelming. I think the trick is to get a sleeping car. Anyway, a really good movie that will make you to head the Marlene Dietrich fan club.
RATING: ****-
Interesting Facts:
China banned the movie and demanded a world wide withdrawal. The studio had to promise to never make a film about Chinese politics again.
This movie used 1000 extras. I just automatically typed 1001 and had to correct myself. Wow...
Available on YouTube. First part: