Triumph des Willens
Triumph of the Will
1934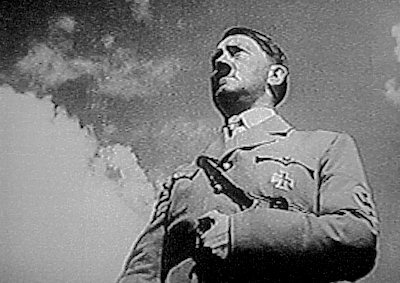 I once witnessed some American boys teaching a Chinese foreign exchange student how to properly pronounce the word "faggot". My uncle had a talk with me when I was fifteen about what life as a true alcoholic is like. I saw footage of 9/11 that showed people jumping out of the World Trade Centers. Watching Adolf Hitler smile shyly to the camera as he disembarked from a plane amid cheers is one of these moments; the kind that fills you up with awful sadness and despair on what humanity is truly capable of. There is no way to be consoled. The only way you can ever get over the sickening emotion is by not thinking. That's right: the cure is ignorance or denial.
I don't want to spend a long time on this post. This movie doesn't include exterminations or concentration camps. Just lots of speeches and smiles. I think that is what scared me the most. A genocide was occurring and for a hour and a half, you watched one of the most evil men ever born wave to little girls and nod to young men. I visited Anne Frank's hideout in Holland. I saw where they would measure the kids on the walls. I saw pictures of boys Anne thought were cute. I felt her presence as I examined her girlish handwriting. In short, I saw a very small part of a family that was utterly destroyed by Adolf Hitler. With this film, I got a look at the man who was responsible for all the atrocities. And you know what? He just kept smiling.
This is a film not to be rated. To discuss its technical achievements is trivial and unimportant. To talk about the filmmaker (who thought of people in concentration camps as "extras") is to give her a moment's thought which is more than she deserves. This film is to be remembered surely. I will always remember: it is the face of true evil.