It's a Gift
1933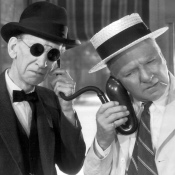 Another 30s, male lead comedy. More outdated jokes but quality acting. So instead of repeating myself again, I will spend this post talking about other things.
Today I fell in a huge puddle of mud. My favorite actors are Jack Nicholson, Kevin Spacey, Joan Blondell, Ewan McGregor, and Nicole Kidman. I really don't like talking about the illegal immigrant problem, because I really have no idea what to do about it. I have a historical crush on Alexander Hamilton. I have a thing for red-headed guys. I have a huge prejudice against the French and I am head over heels in love with London.
There. I hope that was more interesting to you than a lecture on how humorous I found that movie. It probably wasn't and now you feel gypped. I apologize; we can discuss this movie over comments if you want.
RATING: **---
Interesting Facts:
I guess I should tell you that this film is about a kind of Mr. Bennet character who wants to buy an orange farm.