The Footlight Parade
1933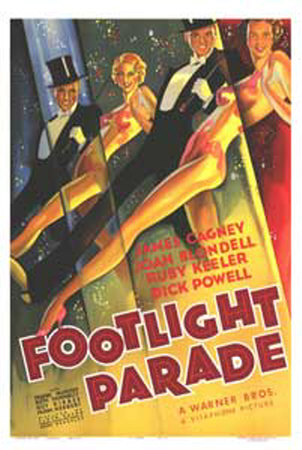 There really isn't that much of a difference between this movie and the previous one. Even
Gold Diggers
, my favorite of the set, isn't that different than these films. Right now, it is just of blur of legs and wisecracks.
This film is superior to
42nd Street
, despite their similarities. The dialogue is a lot witter than the dullness of
42nd's
. I absolutely adore Joan Blondell. She was an incredibly interesting lady, if you ever want to read about her. She always comes across as a woman who can hold her own on any stage and she just happens to be beautiful. Anyway, what is really important in these movies are the musical numbers.
There are three numbers at the end that have to be seen to be believed. I love musicals. By that I mean, watching musicals, of course, not starring in them; though I did rock the house as a lady of the court when I was in eighth grade. Anyway, I think even people that don't particularly like musicals will be astounded by the magnitude of the end productions.
RATING: ****-
Interesting Facts:
John Garfield was rumored to be in one of the numbers but this was later disputed by Judy Garland.
The most stunning of the numbers, "By the Waterfall".