Sons of the Desert
1933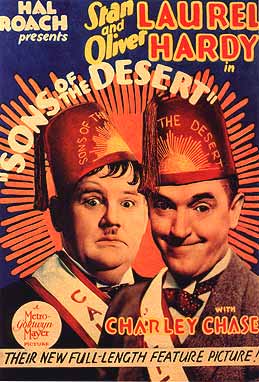 This is one of those "aren't wives controlling and obnoxious bitches?" kind of comedies. I usually can laugh at them, but I was raised by an extreme feminist so something in me twitches. I also heard a guy say today that women shouldn't be allowed to drive so maybe I am just looking for a fight.
So Laurel and Hardy are apparently a "thing" just like the Marx Brothers. I had actually never heard of them before. This means that I haven't heard of any fans of theirs either. I have a similar opinion about this movie and Duck Soup. I am sure they were hilarious for the time, but now their jokes are completely outdated. They didn't get a laugh out of me once. This is not to say that comedies from the thirties can never be funny. I loved Gold Diggers of 1933 and I even laughed at Buster Keaton back in the twenties. I think the difference is that the comedies I like were a lot more subtle and witty. Sons of the Desert, Duck Soup, and even Chaplin's movies consisted of pure gags, which are never as entertaining.
RATING: ***--
Interesting Facts:
Good acting, though.
"Well, here is another fine mess you got me into" was #60 in AFI's top 100 movie quotes.
Had to get this one off Amazon.