Ye Ban Ge Sheng
Midnight Song or Song at Midnight
1937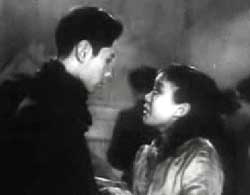 So this is actually pretty embarrassing. In one of my earlier posts, I was bragging about having seen all the versions of Phantom of the Opera. Then this Chinese version comes along and spoils everything. Well, now I have seen all the versions (I think)!
My version of this film was incredibly awful. It made my version of Things to Come look like 3D. The subtitles were inaccurate/choppy and the picture was shaky. I probably would have hated it anyway, though. The film making was really elementary. For instance, at one point someone is singing about a girl being like a tree standing alone and a shot of a tree is shown. Then he sings about how she is like the moon and a shot of the moon is shown. We don't need everyt metaphor illustrated, buddy. We can use our imaginations.
This movie is about an extremely twisted love story. The acting is pretty poor. Chinese is not the prettiest language either. Two hours of Chinese and I was actually craving German. Crazy, right?
RATING: **---
Interesting Facts:
Holy shit! There are about 30 different versions of this movie. How ethnocentric of me!