The Mortal Storm
1940
Directed by Frank Borzage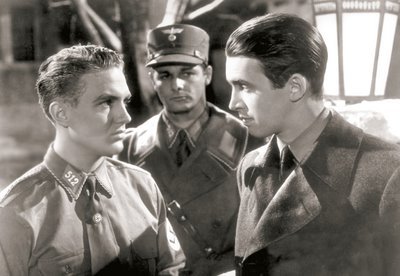 F*************************CCCCCCCCCCCCCCKKKKKKKKKKKK!
So my incredibly classy way of starting this post is due to the fact that I had the worst version of this film. This movie is hard to find so I ended up buying a really cheap dvd of it on Amazon. There were no visible scratches on it, but it wouldn't stop skipping. Now, I have seen every minute of this film but I had to keep going back and forward so many times that by the end I really had no idea what was going on.
It is highly doubtful that you will see this movie because it is so unavailable and in such poor condition. However, just for the heck of it I will carry on with my review. This movie is about Professor Roth and his family as they are destroyed by Nazi Germany. This film is really interesting for the time. The United States did not enter World War II until 1941, when Pearl Harbor was attacked by the Japanese (see? This blog has everything, including obvious historical facts!). However, it seemed that Americans (at least some) knew about the atrocities committed against mankind in 1940. Kind of disgusting that we didn't get involved sooner, actually.
The love story is just kind of meh, but this is an interesting and historical film. It seems that today every year some new World War II movie comes out; MGM was one of the very few studios that had the balls to do it while WWII was going on. Pretty spectacular; too bad the quality sucks.
RATING: *****
Interesting Facts:
All MGM films were banned in Germany by Adolf Hitler for having anti Nazi sentiments.
Other pro American intervention in the war movies include Foreign Correspondent, Man Hunt, and Sergeant York.
In other news, I have officially seen all of AFI's top 100 movies. Pretty excited...
Trailer: